There is a growing awareness around the globe--and particularly among Christians--of the enormous need to care for the millions of orphans in the world. In her book,
Orphans and the Fatherless: Making Ourselves Known
,
Julie Chandler
offers statistics, testimonies, Scripture, and personal insight to assist in this wake-up call for us to attend to the needs of the fatherless.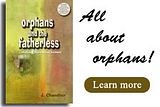 It's a strange thing, I confess, to realize that we actually
need
a wake-up call for something so vitally important and widespread. But we do. It is not the fault of the children that they are without a mother and/or father. It is, however, a need that they have, and it is one that many of us can meet in one way or another.
Julie Chandler offers a variety of ways to minister to orphans and the fatherless. Since many people are unable (for various reasons) to actually adopt a child, Chandler is attentive in providing a plethora of ideas for caring for these children. And the ideas range in time, money, and energy required, so that just about anyone can latch onto at least one or two of the suggestions and make them happen.
I appreciated this book, although I was expecting a more in-depth, unified work. Instead, Chandler offers numerous brief chapters that can basically stand alone. There isn't much transition from one chapter to the next. This works to one's advantage, though, if you only have time to read in short spurts. It might also be good for a small group to go through together, particularly because of the call to action in which they could participate together.
I value Julie Chandler's passion and commitment to this widespread, saddening, problem. I pray that God uses her book to challenge people all over the world to care for the orphans and the fatherless.
*
Disclosure of Material Connection: I received this e-book free from Julie Chandler
. I was not required to write a positive review. The opinions I have expressed are my own. I am disclosing this in accordance with the Federal Trade Commission's 16 CFR, Part 255: "Guides Concerning the Use of Endorsements and Testimonials in Advertising."